Posted by Happy Homemaker UK
Poppies Amongst The Wheat
Driving through Kansas,
you drive countless miles before you see where one farm starts
and another begins
It feels very corporate
Yet in England, farms are small and family-run
You easily see the walls or hedgerows that mark
where each farm begins and ends
Cotswolds countryside with sheep, horses, and crops
(and rain)
There is tremendous encouragement to 'Buy British' and 'Grow Your Own'
Clearly Will & Kate made an effort,
for an impressive number of Royal Wedding elements were British
A supermarket giant, Waitrose, has a campaign to support British farmers
by offering what appears to be only British produce and meat when possible,
bringing the idea of global Fair Trade
to a local level
This helps protect the countryside I have come to love
You often can buy direct from a farmer at the garden gate or at a farm shop
And because so many things grow well here,
the country provides well for itself
From beekeeping & henkeeping to gardening
many are doing it successfully on a smaller scale
in their backyard,
more widely than in the US
***
Time for another Post Of The Month Club day - yea!
It is a great way for you to promote your best work
and meet other fantastic bloggers
Join me July 31st & Aug 1st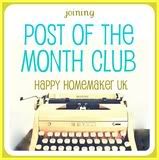 Ooh, wouldn't this button look lovely on your sidebar?
You can grab the code from my sidebar :)
All bloggers are welcome to join
It wouldn't be the same without you!