Althorp House, Northamptonshire
A girlfriend of mine just returned with rave reviews from the Spencer family home,
but I had to hurry if I was to visit this famous estate
before it closed to the public for the season
So off I went!
The Spencer dynasty has lived at Althorp for twenty generations
Not a museum, this house is has been occupied uninterrupted by a family since 1522,
making this house a home
Covering 14,000 acres of beautiful countryside in Northamptonshire, Warwickshire, and Norfolk,
the estate includes cottages, farms, woodlands, and even villages
Charles, 9th Earl Spencer (Princess Diana's brother) lives there today
Oaks & sheep line the driveway
Making their fortune as sheep farmers since pre-Tudor times,
the Spencer estate leases much of its land for farming today
In many cases, the same family has farmed the same land for generations
As you could imagine, the Althorp House holds many stories
including courtly balls, a secret marriage (1755), a small pox victim (19th cent), and
royal overnight guests including

William of Orange (1695),
Queen Mary and King George V (1913)
One guide assured me there are no ghosts or secret passageways,
but
I was always on the lookout for a trapdoor or hidden panel :)
Prince William Room & Marlborough Room
Exploring the nineteen rooms and a few private apartments,
I found the house to be large and grand (as expected)
with an accumulation of countless portraits,
artwork, antique furniture, and books that spans the generations
Althorp Stables
The stables hold an award-winning exhibition celebrating the life of Diana, Princess of Wales
including the famous bridal gown, her childhood letters and artifacts,
and details of her charity
work
My favorite part was seeing some of her dresses displayed next to
photographs of her wearing them
She was definitely an amazing person with all she accomplished
What a difference one person can make
(and how adorable are her two sons?!)


A Sad Day: At rest on island, September 6th 1997

I saw a visitor leave flowers here...
Located beside lake
Although the 2011 summer open days have almost past,
there are opportunities to rent out the house for a wedding or special occasion(!)
or visit when it is open next time (the more economical choice):


Althorp Garden Art Weekend (Sept 3-4)
Winter Warmers at Althorp (Nov 25-27)
It was definitely an unforgettable day
Thank you for coming along :)
***
Time for another Post Of The Month Club day - yea!
It is a great way for you to promote your best work
and meet other fantastic bloggers
Join me Wednesday, August 31st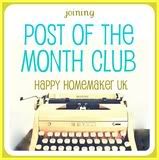 Ooh, wouldn't this button look lovely on your sidebar?
You can grab the code from my sidebar :)
All bloggers are welcome to join
It wouldn't be the same without you!
Exterior photos: by me
Interior photos: Althorp
Content: Althorp, Wiki